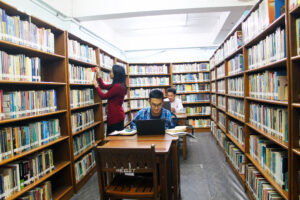 The MEGST library is one of the largest and most comprehensive theological libraries in Myanmar. Over 20,350 books are available for graduate and post-graduate use. It uses the Library of Congress classification system and all books and articles are computer catalogued.
The library contains up to date books, commentaries, dictionaries, encyclopedias, handbooks, biographies, as well as magazines, theological magazines and journals, weekly journals and daily newspapers. It is air-conditioned with tables and chairs to sit at and work. There is a quiet and comfortable atmosphere. And free WiFi.
The library is principally for the use of students, faculty members and staff.  Any non-MEGST student desiring to use any of the library facilities must first obtain permission from the Librarian.  Others may be given library privileges according to accepted guidelines. Alumni of MEGST may apply for a library users' card and have access to MEGST library facilities and full borrowing rights.
Members can borrow a number of books at any time and receive reminders before the books are due to be returned.
Click here for information on: Hours, Library Use, Collections