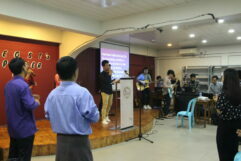 Chapel is a central activity of MEGST spirituality. The purpose is to build relationship with God at individual and communal levels through praise and worship, responsive Scripture reading, offering, prayer and, importantly, preaching from the Word of God.
It takes a 45 minute (8:30 AM-9:15 AM) per service on Tuesday, Wednesday and Thursday.  Faculty, staff and senior students take the opportunity to share their life journey with God. Moreover, Christian leaders across the nation, denominations and tribes and MEGST alumni encourage us from the Bible every month. It is a great opportunity to have some prominent interdenominational leaders in annual occasions such as Spiritual and Mission Emphasis Weeks.
Chapel not only develops students' skills in preaching, leading praise and worship and conducting worship service in English but also nurtures the community in faith and personal walk with God. All these make spiritual exercises an integral part of the MEGST family.